Why choose our Digital Media lawyers?
We are immersed in the digital media sector. Our experienced, no-nonsense, practical approach enables us to work closely with clients to maximise their opportunities and successfully overcome the challenges they face on a daily basis.
Clients want a legal service from lawyers who have a practical knowledge of the sector. We provide that commercial, informed advice thanks to our market-leading experience and understanding of the underlying technologies, business models and legal and regulatory frameworks. Our experts provide extensive counsel, closing deals effectively and efficiently.
---
With clients ranging from dynamic growth businesses to high-profile international household names, we advise businesses across the digital media spectrum. These include broadcasters, media and entertainment companies, internet service providers and online retailers of every kind, online advertising and web analytics businesses, and software and services businesses.
---
We also advise computer and consumer device manufacturers, computer and video games companies, telecommunications businesses, infrastructure and technology service providers, and financial services businesses and other major users of digital media infrastructure, products and services.
Notable deals and highlights
We advised high-profile Web TV, VOD and other digital media ventures on their development, launch and operation, including in relation to: content acquisition and licensing; rights clearances; digital rights management; technology procurement and outsourcing; software and systems development and licensing; intellectual property and brand protection and exploitation; international e-commerce and end-user contracting; real estate; corporate governance; commercial contracts; tax; and employment.

We acted for established broadcasting, media and entertainment companies on online content exploitation and liability issues, including in relation to content syndication and distribution, as well as on internet and mobile TV and content regulation, and liability for user generated content.

We worked for social media and other web and mobile businesses on issues such as content liability, end-user licensing and online contracting, online competitions and promotions, and EU data protection, privacy and partnering arrangements, including in relation to behavioural advertising and international data transfers.

We represented international online retailers on the development and operation of global ecommerce platforms, on international e-commerce regulation, e-privacy, behavioural advertising and the international exploitation of personal data.

We acted for computer games businesses on matters ranging from online distribution, software licensing, international data protection and in relation to the creation and use of in-game virtual currencies with real cash value.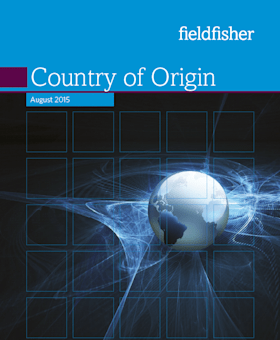 Country of Origin
We review some of the issues that need to be considered in the context of reviewing how the Country of Origin principle has operated in practice and may operate in the context of any modified AV MSD.
Latest Digital Media news and views
Sign up to our email digest
Click to subscribe or manage your email preferences
Subscribe