Why choose our Trade and Sanctions lawyers?
With a commercial approach and advice backed by genuine market experience, the Fieldfisher team is here to help businesses seize the opportunities that international trade offers.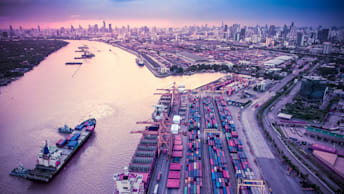 Our interdisciplinary trade practice with lawyers and trade professionals works with clients in all sectors to maximise their growth through international trade agreements; defend their existing markets through our experts in trade remedies; and navigate the dangers to commercial operations and reputation posed by sanctions and export controls.
---
Understanding your business is central to our approach and our close contact with the relevant authorities is invaluable in guiding you through any given matter.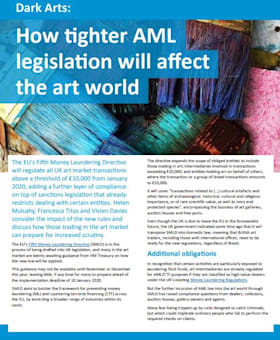 Dark arts: How tighter AML legislation will affect the art world
Helen Mulcahy, Francesca Titus and Vivien Davies consider the impact of the Money Laundering Directive and discuss how those trading in the art market can prepare for increased scrutiny.
Download


Notable Deals and Highlights
We successfully de-listed individuals and companies from EU, Canadian and Swiss sanctions regimes.

We represented clients on challenges to EU sanctions listings before the EU courts.

We advised international energy businesses on the Iran sanctions and on the impact of various EU, UK and US sanctions regimes on their business.

We assisted a major European banking institution on EU and US sanctions compliance and general sanctions policy.

We advised global companies on sanctions, including those against Russia and Iran, across various sectors including oil and gas, aviation, banking, medical devices, telecoms, IT, automotive, and publishing.

We advised on the EU Blocking Regulation and the introduction of INSTEX, a special purpose vehicle aimed at facilitating trade between the EU and Iran.

We advised companies, including in the oil and gas sector, on sanctions implications and sanctions due diligence in the context of mergers and acquisitions.

We advised a worldwide logistics company on the unauthorised export of military items.

We advised a corporate and fiduciary services provider on sanctions compliance.

We advised a major Russian financial institution on compliance with international sanctions.

We advised a major mobile network operator on several sanctions regimes and their application to telecommunication devices.

We advised an international printing company on sanctions, classification and encryption controls.

We assisted companies in devising compliance programs and in-house training.

We assisted an international tech-company with self-disclosure and compliance audits.

We advised chemical companies on sanctions regimes and product classification.

We advised a manufacturing firm on its divestment of assets in conjunction with international sanctions compliance.

We advised a worldwide travel company on the impact of sanctions in Cuba, Burma and Iran.

Latest Trade and Sanctions news and views
Sign up to our email digest
Click to subscribe or manage your email preferences
Subscribe