Our expertise
Ease of cross-border enforcement of awards, party autonomy, need for familiarity with complex procedural issues, technical substantive issues and greater confidentiality makes international arbitration the preferred dispute resolution choice with business leaders. However, it remains a changing and complex area of law in which our arbitration lawyers are recognised specialists.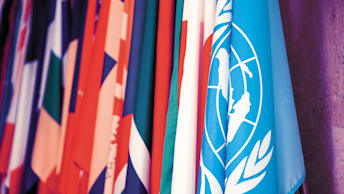 The International Arbitration group at Fieldfisher handles high-value and complex international arbitration proceedings. Financial institutions, global corporations, high-net-worth individuals and state-owned entities instruct us to advise and represent them on disputes across all business sectors, in arbitrations seated in all major arbitral seats. These include London, Paris, Stockholm, Singapore and Washington DC.

Our arbitration lawyers work closely with each client to formulate the best possible strategy to protect their position and resolve the dispute. We advise on the selection of arbitrators, the appropriate seat and institutions, the use of industry experts, and importantly, enforce awards against identified assets. We are also familiar with and well-known to third-party funders, should a client wish to take advantage of funding options.
With our extensive experience and depth of arbitration expertise, clients trust us to achieve the best outcome wherever the dispute.
Members of our team regularly appear as counsel or sit as arbitrators under the rules of most major arbitration institutions and have been appointed to leadership positions with various arbitral institutions and organisations.
These appointments include: Member of the ICC International Court of Arbitration, Deputy Counsel of the Secretariat of the ICC International Court of Arbitration, member of the peer review editorial board for ICSID Review, faculty member of HKIAC Tribunal Secretary Accreditation Programme, Global Advisory Board for ICDR Young & International, member of ICCA Publications Committee, committee member of The CIArb (Singapore branch), member of the Board of Directors of ArbitralWomen and secretary of RCAN.
Latest International Arbitration news and views