Why choose our Art lawyers?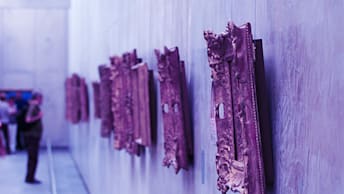 Our cross-departmental art law experts advise on disputes, commercial and non-contentious issues, including finance, tax planning, intellectual property, technology law and real estate matters.
We understand the unique issues and concerns that have traditionally applied to the art world, and we are at the forefront of emerging trends in art, including the role of digital media; changes in copyright law; the growth of the art industry online; and evolving regulations on anti-money laundering (AML) and Combatting the Financing of Terrorism (CFT) in the art market.
We have an extensive network of contacts in the art world and our lawyers include members of advisory councils at some of the world's leading galleries, art academics, former auction house specialists and banking advisers who have been working on art matters since the early 1990s.
Our practice experience:
Acting for a leading investment bank in respect of a £150 million loan granted to a Swiss entity, secured on a portfolio of artwork. The loan was also guaranteed by two further Swiss entities in the group.
Acting for a leading investment bank in respect of a US$60 million revolving loan with accordion option granted to a Jersey trust, secured on a portfolio of artworks. The loan was backed by personal guarantees from the UBOs.
Acting for a leading investment bank on amending and restating an existing credit facility to a Cayman SPV by increasing the facility to £80 million, adding to the portfolio of secured art, permitting some art to go on loan to a New York gallery and permitting certain art works to be held in the UBO's UK residence
Acting for a leading investment bank on re-documenting an existing credit facility of up to US$200 million to Bahamian entities secured over a portfolio of art mainly located in the US.
Acting for a bridge lender in taking security by way of pledge over an artwork held in the UK, dealing with the CPS and obtaining variations to a restraint order, and arranging for the artwork to be sold as part of an enforcement process.
Advising on and negotiating long-term contractual arrangements between an artist's studio and a central London gallery in relation to the creation, installation and sale of digital, interactive, and technology-based artworks.
Advising the owner of a work by a world-renowned artist in relation to arrangements with the artist's studio for the repair, care and maintenance of the artwork.
Acting for a creative agency and technology provider in relation to the provision of augmented and virtual reality solutions to galleries and exhibitions, including Art Basel and the Louvre Abu Dhabi.
Advising an industry-leading VR, AR and MR development studio on the creation of a 360-degree virtual reality experience in support of a United Nations project to combat climate change.
Advising a collector in a dispute with a gallery over jointly-owned works of art.
Representing an offshore trust and obtaining a freezing order against an art adviser in relation to a collection that was stolen.
Advising a collector in a dispute with a leading auction house.
Advising an artist in connection with a dispute with his former gallery.
Acting for a leading international auction house in a dispute with the Netherlands Government.
Acting for a large cinema group in the Netherlands regarding its interaction with Pathos and the European Commission.
Advising galleries on their insurance cover.
Advising the personal representatives and beneficiaries of an estate on making an offer to transfer various works of art to the nation in lieu of inheritance tax.
Advising the personal representatives of a professional artist's estate on claiming Business Property Relief on the value of the artist's business.
Advising UK resident, non-UK domiciled client on global estate planning involving assets in 10+ jurisdictions.
Advising non-UK domiciled, non-UK resident client on structuring their worldwide collection of artwork and antiques via a holding structure through an SPV incorporated in Luxembourg.
Advising a European UHNW client on options for the potential transfer of a significant art collection out of the client's non-UK foundation to himself, his family members or to a trust; the advice involved classifying the foundation to determine its UK tax status and considering the different taxes that arise and succession advantages.
Advising the trustees of a Jersey trust in relation to art held in an underlying company; the advice centred on decisions being made in relation to the artwork (whether by the company directors, the trustees or the beneficiaries), what consultancy/other agreements were in place and the UK tax implications of these arrangements and factored in that the settlor of the trust would shortly become deemed UK domiciled, while considering logistics for ongoing payment of fees and expenses relating to the artwork held in the trust.
Acting for a high-profile London-based art studio in relation to copyright advice in the context of its relationships with printers and distributors.
Advising a gallery on the use of copyright-protected images and trade marks in artworks.
Advising a Rotterdam art museum in connection with various IP and privacy issues.
Advising Amsterdam-based creative guidance agency ENitsua on its terms and conditions.
Preparing and negotiating loan agreements on behalf of a major UK charity with the V&A and the University of Kent relating to the loan of certain artwork.
Advising a US alcoholic beverage company in relation to the loan of certain historical artefacts relating to the history of the company.
Restructuring an artist's business and setting up a holding company.
Advising a US musical artist on the sale of their business to a UK media company.
Advising a top UK gallery on various property matters.
Advising a national UK museum on its acquisition of a London property to provide additonal storage and office space.
Latest legal news and views from the Art sector