Locations
Last year, The European Intellectual Property Office (EUIPO)'s cancellation division decided to invalidate a European Trade Mark (EUTM) registration for one of Banksy's most famous artworks –"Flower Thrower".
The decision raised some interesting questions regarding bad faith trade mark applications and the protection of intellectual property rights in artistic works.

In May 2021, the EUIPO's cancellation division struck again (Cancellation No. 39 873 C (INVALIDITY)), this time deciding to invalidate Banksy's trade mark registration for the image of a monkey wearing a sandwich board. In both cases the invalidity action was filed by Full Colour Black Limited (Full Colour Black), a greetings card company specialising in street art images.
Background
Pest Control Office Limited was set up to deal with commercial matters relating to the street artist known as Banksy. Because Banksy has always sought to maintain anonymity, most business transactions are conducted on his behalf by Pest Control Office Limited. Throughout this blog, references to Banksy include Pest Control Office Limited.

Via Pest Control Office Limited, Banksy had registered the following figurative sign named "Laugh Now" as an EUTM under Registration No. 17981629: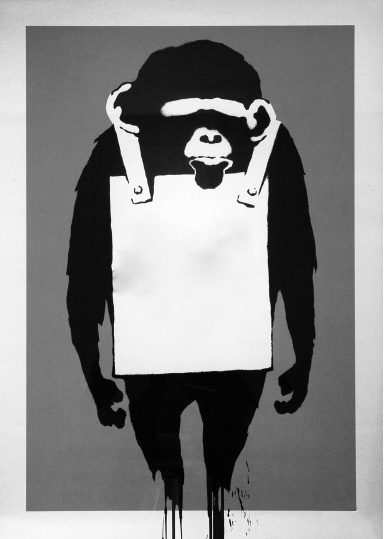 The registration covered a range of goods and services in Classes 9, 16, 25, 28 and 41.

According to the evidence submitted, the artwork was created back in 2002 and was originally commissioned by a Brighton venue, before being sold at auction. As can be seen from the above image, the monkey has a blank sandwich board in the EUTM registration, whereas Banksy's website and the artwork sold at auction shows the monkey with words on the sign.

Full Colour Black applied to invalidate the registration on the basis that it had been filed in bad faith under Article 59 of the European Union Trade Mark Regulation 2017/1001 (EUTMR).
Arguments
Full Colour Black raised a number of the same arguments that it had successfully relied upon in the earlier Flower Thrower case. These included:
Banksy had only used the mark himself in relation to an artwork and had not used it in relation to the goods and services for which the mark is registered;
The artwork had originally appeared in a public place where it could be photographed and reproduced by members of the public;
The mark has already been used in relation to a range of items made and sold by third parties, including merchandise;
By registering the trade mark, Banksy was attempting to bypass copyright law (it is impossible for Banksy to assert copyright without disclosing his identity, which would cause him to lose the air of mystique surrounding his persona and likely have an impact on the value of his work going forward);
Banksy has previously expressed his contempt for intellectual property law, having publicly stated that "copyright is for losers" in his book Wall and Piece;
Banksy has publicly admitted in interviews that he set up his shop and website (Gross Domestic Product) with the intention of fulfilling the use requirement of trade mark law and in order to defend the attacks on his trade marks by Full Colour Black.
Pest Control responded by contesting Full Colour Black's evidence, and also raised the following counter arguments:
Granting free rein for non-commercial use (i.e. allowing members of the public to photograph and reproduce the artwork) should not affect trade mark rights in relation to commercial goods.
Just because Banksy maintains an "anti-establishment" viewpoint, this should not prevent him from being able to enjoy the benefits of intellectual property law and procedure in the same way as anyone else.
Decision
The Cancellation Division decided that there was bad faith on the part of Banksy at the time of applying to register the EUTM under Article 59(1)(b) EUTMR. The applicant for a mark must be subjectively determined to have acted in a way which reflects a dishonest intention and judged against an objective bad faith standard. In this case, the Cancellation Division noted that Banksy had himself confirmed publicly that he did not produce any goods. He then went on to open his shop and online store, publicly stating that this was for the main purpose of trying to defend Full Colour Black's invalidity application. These actions amounted to sham efforts to try to show an intent to use the trade mark and were deemed bad faith on the part of Banksy at the time of filing. As a result, the EUTM registration was declared invalid.

The Cancellation Division did acknowledge the challenges faced by Banksy in relation to asserting copyright against third parties while at the same time keeping his identity a secret. The Cancellation Division chose not to comment further on whether famous works of art are also registrable as trade marks, but did note that copyright and trade mark protection do not have to be mutually exclusive.
Comment
A search of the EUTM Register confirms that five other trade mark registrations owned by Pest Control Office Limited are subject to cancellation actions by Full Colour Black Limited, so it will be fascinating to see whether the same approach is adopted by the Cancellation Division in each of these cases.

A couple of points to note in particular:
Following Brexit, the UKIPO has created UK equivalent registrations for all of Banksy's existing EUTM registrations, which were registered at the end of the transition period. These exist independently of the original EUTMs and at the date of writing, are not yet subject to challenge by Full Colour Black. Given that both parties are UK companies, it will be interesting to see whether Full Colour Black seeks to attack Banksy's UK trade mark registrations.
Banksy has obtained a back-up EUTM registration for the Flower Thrower image (EUTM 18118853 which was filed in 2019, around the same time as Banksy's shop Gross Domestic Product started trading). Full Colour Black has also attacked this back-up registration. It will be interesting to see if the same bad faith arguments can succeed in a situation where Banksy may be able to show that the Flower Thrower image has been used on products such as silk screen prints (Banksy™ Thrower – GrossDomesticProduct) which have (allegedly) been offered to the public for sale. The fact that all items on the website are currently "out of stock" and that there are question marks over whether the shop was ever open for trade, could work against Banksy.
Sign up to our email digest
Click to subscribe or manage your email preferences.
SUBSCRIBE