Careers and development at Fieldfisher
All Fieldfisher employees have access to a wide range of business skills sessions tailored to their level, experience and development needs. These are managed and scheduled by the People Development Team who work with stakeholders and learners across the business to ensure training is effective. The team works closely with the firm's lawyers, business services and legal support services to help them reach their potential in order to provide the best service to their clients.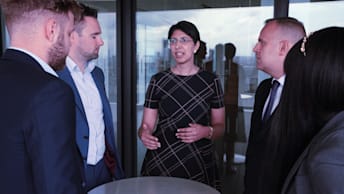 All Fieldfisher employees have access to:
Our Business Skills Development topics include a range of different skills which are aligned with our Career Development Drivers and any regulatory factors for different audiences.
Our flagship Academy programmes further build on the skills from our Business Skills Development sessions and help develop networks, collaboration and international relationships across our European offices. All of these enable our people to build new capabilities and grow their existing skillsets, to ensure they can meet their individual, team and firm objectives.
Fee Earners
Our Senior Associate Leadership Programme (SALP) is our path to partnership initiative aimed at colleagues who are viewed to be on track for partnership. The programme is delivered in 5 full-day Modules, spread over the course of 9-12 months. SALP is seen as an important step in the development of our future partners/leaders of the firm and it mainly focuses on the development of the core skills such as: Building business; People Management and Leadership; and Commercial and Strategic awareness.


Partners
At Partner level we offer a range of different support including:
The New Partner Orientation programme (NPO) - a highly recommended and practical programme for all who are new to partnership (both internally and through lateral hire). The content and structure of the programme helps to support new partners as they transition into the role and build on the development of key leadership and management skills.
Partner Academy - An intensive and highly practical programme, devised to accelerate the development of Partners across the firm through a range of core skills i.e. People Management, Business Development and Financial Management.
Coaching - to provide further support for those either in need of 1:1 guidance or development, or as they transition into a new role.
The Partner Mentoring Programme (PMP) – an initiative we launched in recent years aimed at partners who have recently been promoted into partnership, moved into equity or recently joined the firm. From this programme partners will be able to benefit from having a fellow partner colleague as a mentor, who can offer support and insight from their experiences. Participating partners are given training to develop their mentoring skills .
In addition to all of the above, we also run bespoke training and role-specific interventions when needs are identified, which can be in the form of tailored team training or professional qualifications.