What are 'trade remedies'?
UK industry benefits from trade remedies as a protection from unforeseen surges in imports and unfair competition from overseas producers guilty of unlawful trade practices. Trade remedies usually come in the form of additional duties on imported goods, designed to create a level playing field.
While UK industry uses trade remedies as a tool to ensure a competitive market place, they can represent a real risk to a foreign exporter's established business model.
The trade practices addressed by trade remedies measures are dumping, countervailable subsidisation, and unforeseen surges in imports. UK producers who believe these unlawful practices are happening can apply to the new Trade Remedies Authority (TRA) to investigate their allegations.
Dumping is where foreign companies export goods to the UK for sale at lower prices than they sell for in the exporter's home market. If the UK can prove that dumping is taking place and causing (or threatening to cause) material injury to UK industry, then the UK may impose a tariff to counteract the dumping/injury based on the lesser duty rule.
Similarly, the UK may impose a trade remedy duty where it finds that imported goods that benefit from a foreign subsidy (granted directly or indirectly) for the manufacture, production, export or transport of goods is causing material injury to UK industry.
Safeguard remedies, often in the form of tariff rate quotas and/or tariffs, are imposed to protect UK industry from unforeseen surges of imports that are causing serious injury. Unlike dumping or subsidy measures, safeguard measures are imposed against all importers globally to help domestic industries adapt to new or temporary market conditions.
The UK already has a range of trade remedies measures in place across a range of sectors that it inherited from the EU. For example, there are currently ad valorem duties of up to: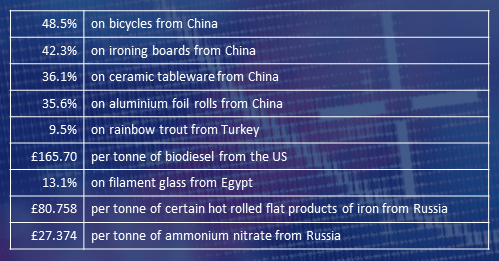 The administration of trade remedies has returned to the UK following Brexit and so UK industry can now ask the new TRA to investigate their allegations in relation to imports for a particular country (or countries).
If the TRA initiates an investigation, it invites numerous 'interested parties' to participate in the investigation, which provides them with an opportunity to defend their interests. As well as any UK producers that apply for the investigation, other interested parties include overseas exporters or importers of the goods concerned; trade or business associations of UK and overseas producers, overseas exporters or importers of the goods concerned; and the government of the relevant foreign country.
The UK trade remedies system is based on World Trade Organisation (WTO) law, but has its own novel features, which are found across a complex web of primary legislation and statutory instruments. These include:
The Taxation (Cross-Border Trade) Act 2018
The Trade Act 2021
The Trade Remedies (Dumping and Subsidisation) (EU Exit) Regulations SI 2019/450
The Trade Remedies (Increase in Imports Causing Serious Injury to UK Producers) (EU Exit) Regulations SI 2019/449,
Trade Remedies (Reconsideration and Appeals) (EU Exit) Regulations SI 2019/910

Fieldfisher is uniquely placed to offer first-hand experience of navigating this legal framework and how the TRA conducts investigations, subsequent reviews including transition reviews, and legal challenges. Our international trade team includes lawyers who have worked at the heart of Government on trade policy and who have advised on transition reviews of anti-dumping, anti-subsidy and safeguards measures.

We advise a variety of different industries on the full range of EU trade remedies measures and are already advising industry on the operation of the new UK regime, including some of the first applications for new trade remedies investigations to the TRA, allowing us to provide pragmatic and cost-effective advice and ensure the best outcome for our clients.
What is the process?
The typical process involves an application, followed by an investigation and then a possible challenge.
The investigation stage of the process alone can take up to a year so it is important for UK producers who consider they are suffering injury to take action quickly.
Timeframes for the completion of the various stages of an investigation are short so overseas exporters and other interested parties need to actively engage with any new investigations promptly to protect their interests.
The following is a very brief summary of the key stages.
Application
Interested parties make applications for trade remedies investigations to the TRA on its online platform called the Trade Remedies Service.
For the TRA to accept an application, there are several legal requirements to meet including establishing appropriate standing and sufficient market share.
Parties must ensure that they provide enough information for the TRA to find that there is sufficient evidence of the alleged practice.
This is a critical stage for the applicant industry to ensure it makes the best possible case to persuade the TRA to initiate an investigation.
Initiation
If the TRA accepts an application, it initiates an investigation by publishing a notice of initiation on its public file and by inviting interested parties to register.
Various parties can register - either as interested parties or as contributors - each of whom have different legal obligations and rights during the investigation.
Parties may choose to register and liaise directly with the TRA, or they may prefer a legal representative to act as intermediary on their behalf.
Data Collection/Investigation
The TRA will then collect the information it requires for its investigation by sending out detailed questionnaires to relevant participants.
Much of the information provided to the TRA will be highly commercially sensitive and therefore careful navigation of the confidential information provisions of the regulations is necessary, including submitting legally sound non-confidential summaries and/or statements of reasons, which the TRA will publish on its public file.
It is also important to bear in mind the legal tests the TRA applies in its analysis of the data, so that participants present it in a way that makes the best case for the desired outcome.
Submissions on certain concepts set out in the regulations can have a decisive impact on the outcome. Such as on the existence of a particular market situation or whether a measure is in the economic interest of the UK.
Draft decision
Following verification of the information supplied to it, the TRA publishes a draft decision known as a Statement of Essential Facts (in a dumping or subsidy case), or a Statement of Intended Final Determination (in a safeguards investigation).
Parties have a month to respond to the draft decision, which is an opportunity to correct any factual errors, respond to claims of other parties, and make any submissions on the TRA's legal or economic analysis.
As this is the final opportunity to input into the TRA's decision, it is vital to review the draft in fine detail within the tight time-frame and make robust factual and legal submissions.
Recommendation
Where the TRA finds dumping or subsidisation, and that imposing a measure is in the economic interest of the UK, its final decision is a recommendation that it passes to the Secretary of State for International Trade to decide whether to accept or reject it.
The Secretary of State can reject the recommendation if she considers that it is not in the public interest.
Where the Secretary of State accepts the recommendation, she will publish a notice and the trade remedies measures will come into effect.
Reconsideration and appeal
Should interested parties wish to challenge the decision of the TRA for any reason, they must first seek an internal reconsideration.
Following a reconsideration, interested parties may appeal the TRA's decision, although this is limited to judicial review grounds and is therefore not an appeal on the merits.
There is no reconsideration process for decisions of the Secretary of State and therefore interested parties can only appeal her decision on judicial review grounds if they are dissatisfied with the outcome.
---
In part two of this series, we explore the
economic interest test and the public interest test
, why they exist and how they are assessed.
In part three, we break down how to
challenge a trade remedies decision
.
Sign up to our email digest
Click to subscribe or manage your email preferences.
SUBSCRIBE