Fieldfisher's Personal Injury team is again listed Band 2 in legal directory Chambers, recognising the hard work and incredible achievements of the whole team.
Chambers says:

'Fieldfisher is a strong team of catastrophic injury and industrial disease specialists within a full-service firm. Significant expertise in high-value and highly complex cases, including those with an international element, is on offer from the team, which also fields extensive experience with regard to severe RTAs and injuries sustained in the workplace. The team is also regularly instructed to provide representation in high-profile cases and has been active in personal injury claims arising out of terror attacks.'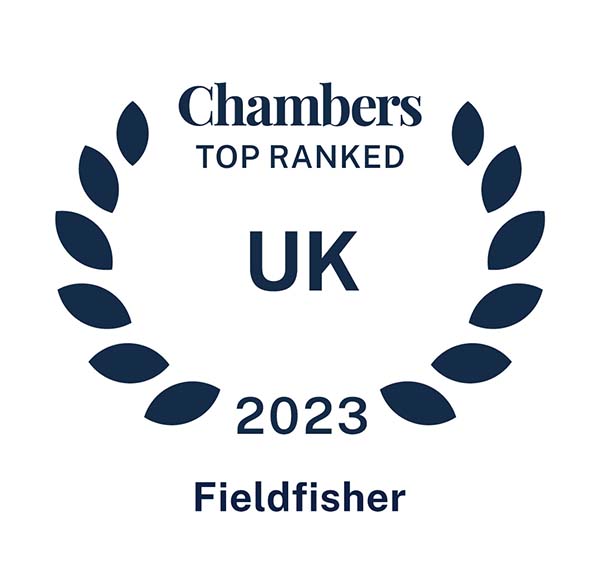 Partner and head of the team Jill Greenfield
Star Individual

Jill Greenfield is renowned for her handling of high-value catastrophic injury cases for claimants, typically arising from RTAs. She has also built a substantial practice dealing with both sexual assault cases and injury claims resulting from terror attacks.

"She is a fierce, tireless champion who combines razor-sharp legal skill with wit and warmth."

"Jill Greenfield is well versed in medical matters and understanding of the medical intricacies of her clients' needs."

"She is a tenacious litigator who is totally committed to the holistic outcome for her clients."

Partner Keith Barrett
Band 2

Keith Barrett handles high-value claims arising out of accidents at work, on the road and in public places, including noteworthy expertise in aviation and child injury matters.

"Keith Barrett has phenomenal work ethic and will always go the extra mile."

"He fights the unwinnable cases and wins."

Partner Dushal Mehta
Band 4

Dushal Mehta has notable experience in a range of personal injury claims sustained in the workplace. His expertise extends to fatal accidents and catastrophic RTA matters.

"Dushal Mehta is brilliant with clients, he has a real human touch, and he is always clear in his advice."

Partner Jennifer Buchanan
Band 4

Jennifer Buchanan dedicates her personal injury practice to neurological and orthopaedic injuries. She has deep expertise in claims arising from serious cycling injuries.

"Jennifer Buchanan is utterly committed to her clients and to obtaining the very best settlement terms."

"She brings a real personal touch to her clients."

Eman Hassan
Associate to watch

Eman Hassan has a reputable personal injury practice with particular strength in amputation, musculoskeletal and brain injury claims. She adeptly represents claimants in a range of fatal and catastrophic matters.

"Eman Hassan has both empathy and insight in equal measure."

"She is very passionate and very good with clients."
Sign up to our email digest
Click to subscribe or manage your email preferences.
SUBSCRIBE