Earn-while-you-learn apprenticeship
This is an earn-while-you-learn apprenticeship with opportunities in BD & Marketing, IT Services, HR, Risk and Legal Document Production Services, with the chance to gain a professional qualification, to ensure you get the theoretical training you need alongside the practical experience.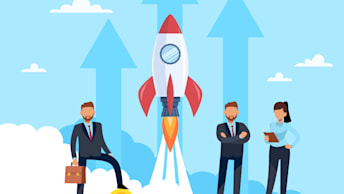 As part of The ACE Programme, the work you do will depend on the role and location you choose. However, whatever direction you take, you'll get to work on exciting projects alongside leaders in their field. You'll be given the experiences and the environment that will support you, challenge you and put you in good stead for a career in professional services. You'll be guided every step of the way, teaching you the skills and behaviours which will enable you to thrive in your career.
We have a culture that ensures everyone who works at Fieldfisher can have an impact and make a significant contribution. Regardless of the area of the business you choose, you'll be joining a structured programme, providing you access to 'all-areas' through a rotation of seats within your department. We believe in giving our people maximum exposure and a variety of experience, as well as the opportunity to work with people who will guide you, nurture you and inspire you to achieve great things.
What do we offer?
An earn-while-you-learn apprenticeship
Competitive salary and benefits
Fully funded recognised professional qualification, specific to the area you apply for
Technical and business skills training
Opportunities to join lots of networks and societies
The support of HR, a mentor and buddy
Real life work on exciting projects
Learning and development that you will be able to utilise throughout your career
Joining a cohort of Apprentices


Salary
| | |
| --- | --- |
| Location | Starting salary |
| Belfast | £19,000 |
| London | £22,000 |
| Manchester | £21,000 |
The ACE Programme
Our ability to deliver the quality service that our stakeholders expect relies on the quality of our people and it's important to establish we're the right fit for each other. Our recruitment process has been designed with social mobility in mind, with a view to encourage candidates to be authentic and demonstrate your skillset that you will have learnt through your studies and/or work experience to date.

With the above in mind, we have designed a recruitment process that is rigorous, yet fair. Our Talent Acquisition Advisor, Ellie, is on hand throughout the entire process to give you all the help and support need.

A minimum of 5 GCSEs (or equivalent) including English and Maths grades 5 – 9 (A – C)
Ability to follow instructions and work as part of a team
Excellent written and verbal communication skills
Curiosity and flexibility
Eagerness to learn
Driven, determined for a career in professional services
A good understanding of our firm and our values
Your application should be clear and concise and be careful to check your spelling, grammar and punctuation. You'll need to complete a few questions and upload an up to date copy of your CV. You can only submit an application to one role per application window. If you're not sure which department you'd like to apply to, reach out to ellie.williamson@fieldfisher.com
If your application is successful, you'll be invited to complete a 30 minute telephone interview with the recruitment team. This interview will look at your motivation for the programme, your communication and team working skills.
After a successful telephone interview, you'll be invited to attend an assessment centre day in our offices. Don't worry, you'll be given a full briefing beforehand but in short, you'll be asked to complete an interview, a written exercise and a team exercise. During the day we'll be assessing all of the skills and behaviours we believe a candidate will require to be successful on our programme. You'll be given the opportunity to meet with the team you have applied to and see our offices.
At Fieldfisher, led by the social model of disability, we are working towards removing accessibility barriers and maximising disability and neurodiversity inclusion in our recruitment processes.

Should you have any accessibility requirements, please contact Ellie Williamson who will work with you to implement suitable adjustments at any stage of the recruitment process. All conversations are treated in the strictest of confidence and we would appreciate your feedback to ensure we can provide an accessible and enjoyable recruitment process.

For information on office accessibility, please visit the office accessibility pages on our website.
I am thoroughly enjoying my Corporate Responsibility & Sustainability apprenticeship. When researching opportunities following my University study, Fieldfisher instantly stood out to me for its great reputation and culture. I knew it would be a place I could develop my career, and pursue my keen interest and passion for sustainability in a professional setting. I have learnt so much already, from data analysis to events management to strategy development. I have lead meetings, delivered presentations to other departments, and had the opportunity to develop key skills in verbal and written communication, organisation and leadership. The 80/20 ratio of work to study has worked very well for me; I have been able to manage my time effectively, and the apprenticeship sessions have leant themselves well to Fieldfisher tasks. Everyone at the firm has been so welcoming and supportive. The recruitment process was smooth, with communication clear at all times. Fieldfisher has surpassed my every expectation of being 'a law firm built around people,' and I am excited to see what the next year of this apprenticeship brings.
Prior to Fieldfisher, I studied LLB Law at University, and having graduated, I wanted to remain in the legal sector, but wanted to branch into Corporate Responsibility and Sustainability (CRS). The opportunity presented itself when Fieldfisher became the one of the first companies to offer the CRS apprenticeship in its first year. Fieldfisher has enabled me to grow professionally and strengthen my knowledge within CRS having been given responsibility within a variety of exciting projects, such has being programme lead for our largest pro bono clinic. Alongside this, I have the flexibility and freedom to be creative about what I do and how I do it. The environment at Fieldfisher serves as an optimal place to continuously grow whilst having access to support, not just within my team, but across the Fieldfisher network, living up to its open culture.
I joined Fieldfisher in 2017 through the apprenticeship scheme, which gave me opportunities to experience working in a professional environment without any prior knowledge. During the apprenticeship I completed a variety of assessments, which helped me to learn and develop skills from the start. I was able to move around the sub teams in the department to get a well-rounded experience of day to day tasks whilst meeting and working with new people of all levels across the firm. Following the completion of the apprenticeship, I have been given opportunities to progress my career further whilst continually improving knowledge and having exposure to a wide range of interesting projects, of which I enjoy greatly.