Driving growth and change
Our Business Services team comprises Marketing, Legal support, HR, Knowledge and Information Services, Finance, Risk and IT across London, Manchester, Birmingham and Belfast and they are a vital part of our expansion.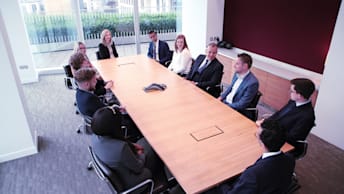 We have a culture that ensures everyone who works here can have an impact and make a significant contribution, not only behind the scenes, but often in direct contact with both internal and external clients.
---
Training and Development:

Training and development isn't just for our fee earners. We'll give you bespoke support to develop your own career. Whether that's through giving you access to different areas across the firm, or making sure you have a structured career plan, we'll make sure your talents are being nurtured.
Should you be interested in a discussion please contact our Business Services Recruitment Manager, James Chapman who can give you more detail around the corporate functions recruitment experience.
Agency recruiters are advised that if they wish to submit a business services candidate to Fieldfisher they must connect with James in the first instance and agree terms of business before any initial meeting can be arranged. Until this takes place the firm does not consider itself bound by any agency's terms of business.
Business services departments
The Knowledge and Information Services team oversees all of the internal and external information needs of the firm. Responsible for document automation and the firm's enterprise search, the team strives to consolidate and streamline internal knowledge to provide answers rather than just search results. We operate a busy and dynamic enquiry/research service supporting all of Fieldfisher's offices and also offer training in legal research and use of online databases to staff.
We are always looking for talented people that are passionate about practising law. Our Paralegals play a vital role in this, whether you are a recent law graduate just starting out, or you have found your niche and are a career paralegal, we are interested in hearing about you.

You will join a team including some of the most highly regarded lawyers in the country, experts in their field. We pride ourselves on trusting and empowering our paralegals to give them exposure to complex and challenging caseloads; supporting our qualified solicitors whilst developing their own talent. The working environment is one which encourages collaboration, personal development and integrity; one we are incredibly proud of. Those joining benefit from formal training, along with invaluable knowledge passed on through the existing team.

The majority of our paralegals are based in Belfast, but we do also have opportunities in our other UK offices from time to time. All current vacancies can be found on our jobs page, but if you would like a discussion around the role of a paralegal at Fieldfisher please contact Recruitment Advisor James Chapman who will be happy to give you further information.
We have an array of examples of those who have flourished within our IT department with support and development, subsequently moving into managerial roles or indeed now part of our senior leadership team. IT is composed of teams focusing on the following areas: Service Desk, Technical Services, Technical Solutions Architecture, IT Training, IT Development and Projects. The team is spread across three of our four UK offices and also supports our European offices.
Our HR team is passionate about adding value, through diversity and inclusion, effective recruitment processes and taking a proactive approach to making employees' time with the firm a supported and positive one. We are delighted to have the opportunity to work alongside our internal clients in order to better understand their ambitions and challenges and support the continued growth the firm has seen, particularly prominent in recent years. Rewarding our internal talent and ensuring fairness, inclusiveness and diversity are key pillars of our approach.
Our Risk team is committed to ensuring a positive impact on business opportunities. They deal with challenges swiftly and professionally as they arise. They work towards streamlining client work flows, addressing cybersecurity and educating all employees on changes to legislation with an emphasis on anti-money laundering, anti-bribery and corruption laws. They partner with the SRA to ensure standards are high and personal data and client data are managed with the upmost diligence.
The team is focused on firm wide key performance indicators and budgeting, while also investing in solid working relationships with internal clients. Therefore, strong communication skills and a focus on excellence are key to success in this department.
Fieldfisher's passion for individuality translates well to its Marketing team. We want to foster passionate and creative people who want to make a difference.

Whether it's our dynamic PR and Communications team that is constantly shaping the firm's narrative, our visionary and impactful Design team, or the Business Development and CRM teams that stand shoulder to shoulder with Partners in leading client relationships, we have a role for you.
Our legal support teams are indispensable to the success of the partnership and provide practical solutions, whether remotely or face to face. We have a support network encompassing four levels of administrative and executive staff which include our PAs and Document Production Specialists. Our PAs provide the fee earners with a personalised service which includes diary and inbox management as well as aiding them with their business development and financial hygiene. We provide training to support the development of IT and business skills to enable all team members to achieve their long-term career objectives. When hiring we look for people who demonstrate our firm values which include integrity and respect in addition to exceptional administrative and organisational skills.
We offer a variety of apprenticeships across our business services departments, working with external providers to ensure you get the theoretical training you need alongside the best practical experience. These roles are regularly advertised or you might be connected with us via one of the following providers:

An error occurred, please contact the site administrator.
Testimonials
Since joining Fieldfisher in 2016, I have progressed from an entry-level secretarial role to an experienced executive assistant. This was made possible by a supportive and inclusive working environment that allows staff to progress at a pace which is best suited to them which in turn makes for well-rounded, home-grown talent. The firm strikes a great balance between providing the foundations for success and autonomy of your own growth and development. An insight I would give to potential applicants is that Fieldfisher offers the opportunity for a career and a sense of belonging to a community and not just a job.
Recruitment Privacy Notice
Read our policies regarding how we use your data during the recruitment process.
Privacy Notices