Our current charity partners are as follows:
| | | | |
| --- | --- | --- | --- |
| London | Manchester | Birmingham | Belfast |
From taking on sponsored abseils and embarking on awareness-raising walks, to putting on comedy nights and life skills workshops for charity beneficiaries, our staff get involved in all aspects of our charity programmes, working with our charity partners to achieve their missions and objectives.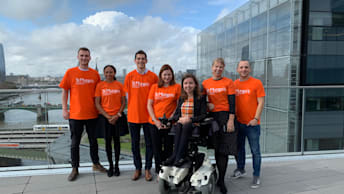 Since September 2019, the London office has been partnered with St Mungo's. St Mungo's is one of the UK's leading homelessness charities and exists to end homelessness and rebuild lives. Each night the charity provides housing and support to 2,800 people across London and the South and helps thousands of others with advice, health, skills and employment services.
---
Reta Robinson, Director of Fundraising at St Mungo's, said: "We are thrilled to be chosen as charity partner by Fieldfisher for the next two years. Rough sleeping is harmful and dangerous, and our ambition is to reduce the number of people who are sleeping on the streets. Our thanks to Fieldfisher for making this commitment to help end homelessness and we very much look forward to working with them."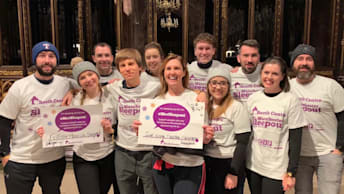 In Manchester, staff support the Booth Centre. The Booth Centre aims to bring about positive change in the lives of people who are experiencing homelessness or are at risk of homelessness in Manchester. They work alongside the people attending the centre to provide activities that help people rebuild confidence and learn something new whilst having fun and building social connections. They run arts, employment and skills sessions daily, they offer everyone a healthy, free breakfast and lunch, and offer advice to help people find accommodation and tackle any practical difficulties.
Birmingham is now partnered with a local children's hospice. Acorns Children's Hospice provides babies, children and young people, who have life-limiting or life-threatening conditions and associated complex needs, with a network of specialist palliative nursing care and support. They provide all-inclusive services to meet the needs of both the children and their families, including the bereaved, by offering short break provision, emergency and end of life care, therapeutic and psychosocial support, sibling services and family support.
The Belfast office has nominated the Kevin Bell Repatriation Trust as their chosen charity for the next two years. The Kevin Bell Repatriation Trust is a small local charity that has so far repatriated nearly 800 loved ones to their families in Ireland from across the world. The charity take care of all aspects of the repatriations and they repatriate approximately 10-15 loved ones home per month.
Fieldfisher strives to have a positive impact on the local community and, to do this, we engage our staff in a Reading Partners scheme. Open to all employees, we have a team of volunteers work with primary school children, many of whom do not have English as their first language or come from disadvantaged backgrounds, at a local primary school to improve their literacy skills and boost their confidence. The scheme allows children and volunteers alike to raise aspirations, work hard and dream big.