The development of the professional knowledge and experience of our staff is important to the firm. We are always interested in hearing from enthusiastic and ambitious people who are keen to join us. Our success and constant growth means that we are continually expanding and often have a number of interesting and challenging roles on offer.
Working with us
Solicitors:

Our solicitors are the foundation of our business. They are talented people with commitment, energy and drive. They build strong lasting relationships with our clients and understand the broader picture. We ensure that our solicitors get appropriate support and resources to deliver the highest service levels to our clients. Developing and rewarding our solicitors is the key to the firm's success. Continuous training, career development, challenging work and providing the necessary support mechanisms are all essential to the development and growth of our firm.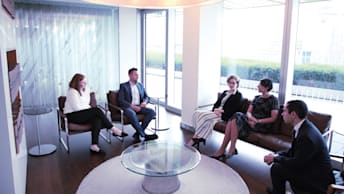 Trainee Solicitors:

Our firm appreciates our trainees and ensures that their training and experience creates an excellent foundation for their future legal career. Our trainees play a pivotal role in the day to day running of our firm. They work alongside highly experienced legal practitioners on a wide and diverse range of cases and receive hands on experience. Our aim is to help our trainees develop into excellent and motivated solicitors and we actively promote and encourage all trainees to fulfil their potential. Our trainees will complete a number of rotations throughout the practice where they will build their legal expertise and develop key relationships in the firm.
Legal Executives and Support Staff: Our legal executive, secretarial and administrative team provide the essential support that allows us to deliver an outstanding service to our clients.
Internship: Our Intern Programme forms an integral part of the firm's resourcing strategy. We see the programme as an opportunity for individuals to learn from our legal professionals and to help them identify if a career in law is suitable for them, and for us to identify potential Trainees. We are open to intern applications from potential solicitors who are as ambitious as we are. Programmes take place at specific points throughout the year and will be advertised in the 'Our Roles' section above when the application process is open.
Our roles
Take a look at the latest opportunities to join our innovative and collaborative team in Dublin: