According to last week's Fieldfisher webinar "Driving space business in a changing world: Finance, investment and M&A", confidence in the future trend line of investment in the sector is riding high.
Polls of delegates from across the UK, Europe, the US and APAC, showed a resounding 76% expect growth in the volume of investment and M&A deals for satellite and space in the UK and Europe over the next 12 – 24 months. Only 6% predict shrinkage, with 18% expecting the investment path to stay largely the same. With delegates drawn from industry and investor communities, these figures demonstrate a strong conviction about the future.
Drilling down to the key domains of the UK/European space sector which delegates most expect to attract investment over the next 2 years, the results were also insightful. The league table panned out: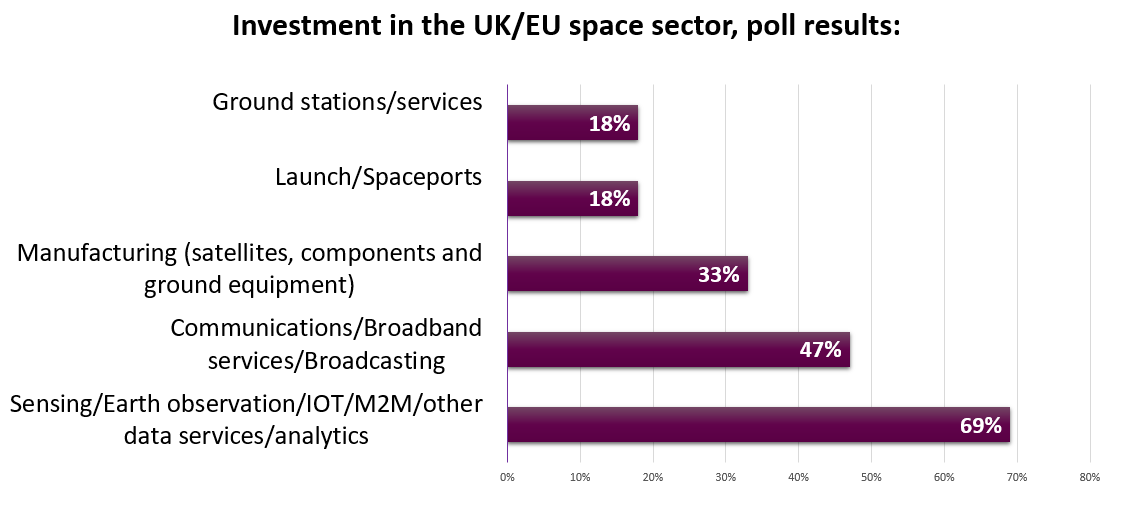 Note: this selection is based on a choice of up to 2 sectors. Thus, totals exceed 100%.
These assessments were debated by our expert panel, comprising Mark Boggett, CEO of Seraphim Capital, Stuart Martin, CEO of the Satellite Applications Catapult, Antony Northrop, CEO of NOR Capital and Tim Bird, partner at Fieldfisher, responding to questions from webinar chair John Worthy, partner and head of Satellite and Space Projects at Fieldfisher.
If you missed this webinar and would like to have more details or hear the recording of the event, please email john.worthy@fieldfisher.com.
Sign up to our email digest
Click to subscribe or manage your email preferences.
SUBSCRIBE