Fieldfisher's clinical negligence team is again listed as a top Band 1 practice to recognise the hard work and incredible achievements on behalf of clients who have suffered the impact of medical negligence.
Chambers says:
'Fieldfisher houses a top-notch clinical negligence team with a wealth of experience in complex, high-profile cases. The team is highly regarded for its extensive expertise in obstetric and birth injury claims. Fieldfisher also handles brain injury and cancer-related matters and is frequently instructed on high-value claims concerning injuries of the utmost severity.'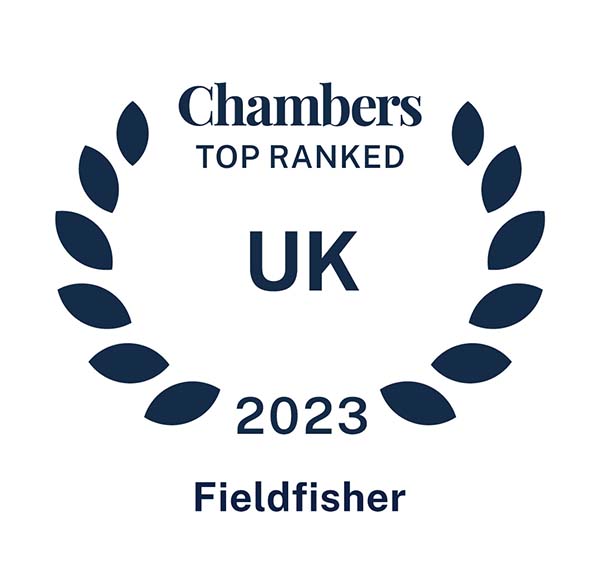 Paul McNeil
Star Individual

Paul McNeil is the head of Fieldfisher's medical negligence team. He is highly acclaimed for his work in the area, with notable expertise in cases involving catastrophic brain injury following negligent obstetric care. He also acts on delayed diagnosis and surgical negliegnce claims.
"Paul McNeil is rightly regarded as a titan in the clinical negligence field. He acts with the utmost skill, care and integrity to ensure I receive the care I need."
"He is a formidable lawyer who continues to get the results his clients want."
"He knows everything there is to know about clinical negligence and is hugely experienced."
Samantha Critchley
Band 1

Samantha Critchley is well known for her representation of both adults and children following failings in obstetric and surgical care. She frequently advises on brain and psychiatric injury claims, with further experience of wrongful birth and delayed diagnosis matters.
"She is simply superb: all over the detail, proactive, knowledgeable, calm, relentless and, most of all, extremely empathetic. You want her on your side."
"Samantha Critchley is extremely thorough and leaves no stone unturned."
"What she doesn't know about a case isn't worth knowing."

Kate Rohde
Band 1

Kate Rohde offers particular strength in cases arising from negligent obstetric care, covering cerebral palsy and fatal and psychiatric injury, with further experience of wrongful birth and delayed diagnosis claims. She also handles complex adult brain injury cases as well as claims for spinal injury arising from negligently performed surgery.
"Kate Rohde is an excellent lawyer. She is very bright and very good at what she does."

Mark Bowman
Band 3

Mark Bowman acts on a range of clinical negligence matters including catastrophic brain injury and fatal claims resulting from negligent obstetric care. He also represents clients in spinal injury, secondary victim and delayed diagnosis claims.

"He has good judgement. He will push in a really understated way to get the right result for his client."

Iona Meeres-Young
Band 3

Iona Meeres-Young handles a broad range of issues, with particular emphasis on birth injury cases. She has additional strength in matters arising from negligent paramedic and surgical care, including fatality and psychological injury claims.

"Iona Meeres-Young is amazing - without her guidance we wouldn't have reached the conclusion we did; she was the strength that got us through the case. We can't thank her enough."

"She is very clever and calm under pressure."

Jonathan Zimmern
Band 3

Jonathan Zimmern acts on claims involving brain damage and amputations as a result of delays in diagnosis. He also represents clients in cases surrounding duty of care.

"Jonathan Zimmern is attentive and has a brilliant eye for detail."

Jane Weakley
Band 4

Jane Weakley frequently represents children who have suffered brain injury at birth, with a focus on cerebral palsy and developmental disability claims.

"Jane Weakley has excellent client care."

Arti Shah
'Up and Coming'

Arti Shah advises clients on a range of issues, including brain injury and cancer claims following delayed diagnosis. She has further experience in surgical and obstetric matters.

"Arti Shah has incredible tenacity and is excellent with clients."

Caron Heyes
Star Associate

Caron Heyes acts for both adults and children in brain and spinal injury claims, often arising from delayed diagnoses and negligent obstetric care.

"Caron Heyes is extremely responsive, empathetic and caring. She is also very pragmatic and realistic - balancing client expectations with well-informed advice."

"I would want anyone going through what we went through to have her. It felt like she would do whatever she could to support and help us. She is clear with everything she says and it's simply hard to put into words how great she is."
Sign up to our email digest
Click to subscribe or manage your email preferences.
SUBSCRIBE