On 10 September,
Bridget Collier
raced into Cardiff, taking second place in the world's toughest mountain race - the Dragon's Back Race.
Starting from Conway Castle, the race takes place over six days, 242 miles/389 kmsinin over countless mountains. There is little rest in between the long days with only rivers and streams for washing and any sleep you can grab in shared tents. The route meanders over the Carneddau, Glyders, Snowdonia, Moelwyns, Rhinogs, the Elan Valley, the Brecon Beacons and onwards to Cardiff.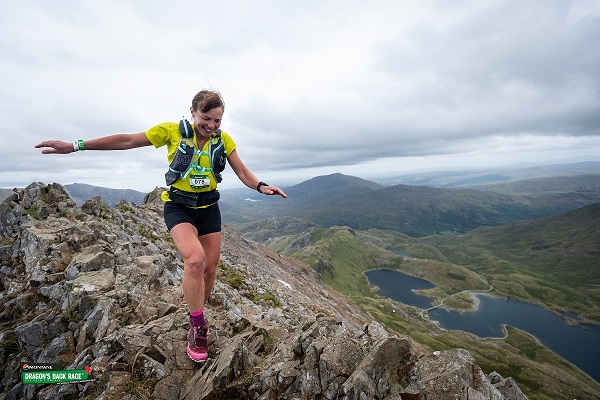 Bridget's personal experiences
At the start, I was intimidated standing one of nearly 300 competitors although only about 10% women. It was 5.30am and dark, a Welsh male voice choir stuck up just to really heighten the high emotion and then I was off running along the castle walls and into the mountains. I knew the terrain, but had no idea how I would cope with such a demanding course.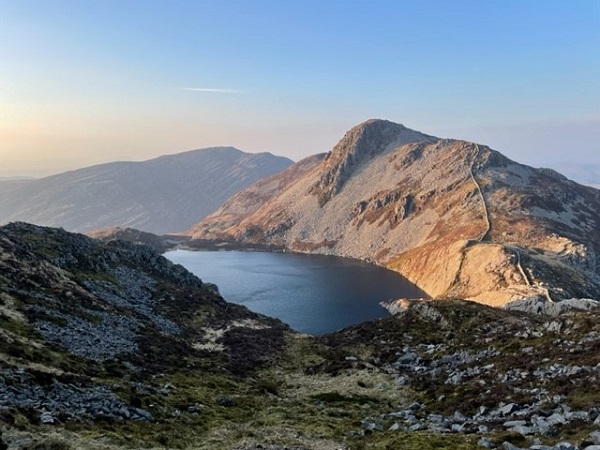 The first day is feared by many as it takes in the airy and exposed scramble alone the knife-edged Crib Goch. Fortunately, this is within my main training ground and I enjoy that sort of terrain, crossing it with cramp kicking in was interesting though. I finished before torrential rain set in and settled into camp life, trying to eat and re-hydrate and study the map for the next day.
Day 2 was a different matter with the challenging pathless Rhinogs and bad weather due to come in early afternoon. I took some good navigational lines descending the craggy scramble and just cleared the worst of it before the torrential rain started. Hood up and onward. I spent some of the day with Victoria who was in 3rd place, I was 1st lady vet 50 and importantly able to run into camp some 36 miles later.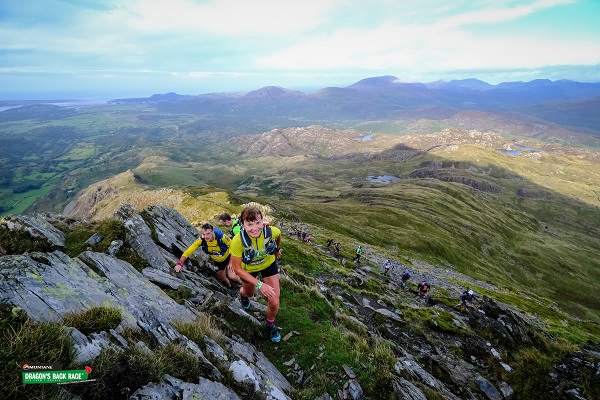 The first 2 days are toughest and a third had already dropped out or been timed out. With a traverse of Cadair Idris before breakfast, heading into the Cambrian mountains of mid Wales and 44.4 miles. This was a different day and challenging as the longest so far. Cadair was shrouded in cloud, but later we got some fine views as well as more rain. I passed through Machynlleth, the first town on route still running well and I noticed I was creeping up the positions. I'd left Victoria behind earlier and I knew others were struggling with injury.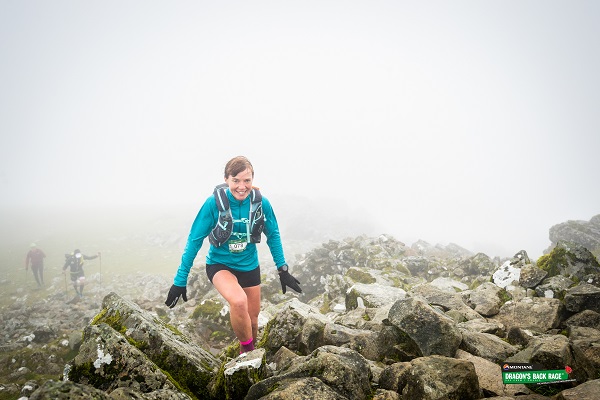 Day 4 passes through the remote Elan Valley. On my recci runs I'd spent hours without seeing soul. I tried to see it as a rest day as whilst it was the longest so far and still 44 miles there was less ascent, lots of ankle-biting moorlands with no paths, but also some nice runnable distances. I had a good run and the race media starting taking notice as I took 2nd ladies place overall.
The sting was yet to arrive though and Day 5 took many out. Over 45 miles and a complete traverse of the Black Mountains and the Brecon Beacons including South Wales' highest peak, Pen y Fan. Many failed to beat the cut off times, a few including the leading man got injured. I took a few tumbles early on when the weather was doing its best to blow us backwards whilst pouring down, but by the end of the day, I finished with amazing views. I had gained a good lead on those behind me seeing me good for 2nd ladies place if I could keep going.
The last morning dawned with sunshine and I hung around camp until it was properly daylight as I hadn't been over the last 40 miles and didn't want to make any mistakes. Today was going to be runnable for those who could still run and I was one of the few still able to do so. The route took lovely low level hills into Merthyr Tydfil then more towards Cardiff. Just outside I arrived at a checkpoint of a trig point on a grassy hill and could see Cardiff and the sea in the distance, it was a joyous feeling. Finishing in 2nd place was a dream come true and testament to a gruelling year of training.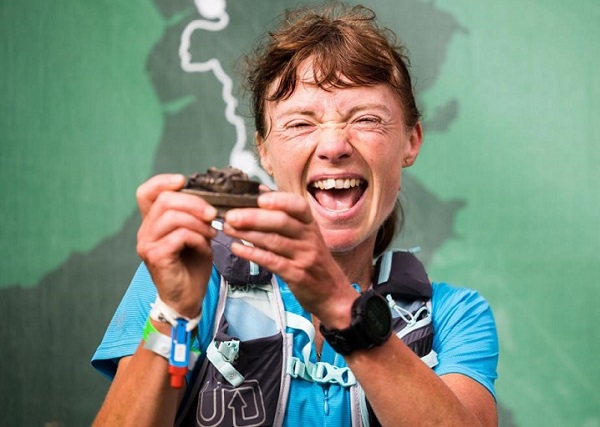 I completed the Dragon's Back Race in 65hrs 58mins 52secs coming in 18th out of all 102 that completed the course and 2nd lady (also the first veteran aged entrant to finish with podium position).
Support mesothelioma and asbestos-related diseases groups
Thanks go to all those who supported her with messages sent via "Dragon Mail" which she received each night in camp and so many who sponsored her. She has also raised nearly £2,500 for:
As well as offering invaluable support and information to those affected by these terrible diseases, the charities also raise awareness about the ongoing danger of asbestos.
Read more about mesothelioma claims.
Sign up to our email digest
Click to subscribe or manage your email preferences.
SUBSCRIBE