Champions
We aim to recruit the right team for the job and treat all applicants and employees equally regardless of gender, marital status, race, colour, nationality, ethnic origin, age, disability, sexual orientation, religion or belief.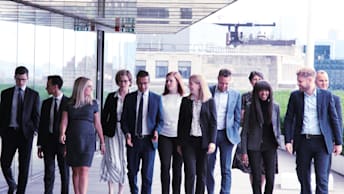 Our Inclusiveness and Diversity strategy includes a range of initiatives and networks for our employees to get involved in:
---
We are champions for inclusiveness and everyone in the firm is respected for the role they play and the contribution of every member of the team is highly valued.
LGBT Network & Supporters Group
Career Focus Partnership with Queen Mary University
Fieldfisher has been certified with the UK National Equality Standard (NES) in 2016, the accreditation for equality, diversity and inclusion. The NES was developed by EY alongside leading businesses and in partnership with the Equality and Human Rights Commission, the Home Office and the Confederation of British Industry. Fieldfisher is the third law firm to receive the NES accreditation.

Recruitment Privacy Notice
Read our policies regarding how we use you data during the recruitment process.
Privacy Notices